Here's what's happening in astrology this week
The astrology shaping your weekly horoscopes for October 16-22
The eclipse corridor brings change and surprises all week
Life could feel more surreal than a Bansky pop-up exhibit this week, so be gentle with yourself as you move through your days. We are officially in the eclipse corridor—the two weeks between the October 14 solar eclipse in Libra and the forthcoming lunar eclipse in Taurus that's due on October 28. Hidden truths are coming to light. Relationships are moving through transitions. Power pyramids are reshuffling. A balanced POV may be hard to churn up on demand so don't try to rush through decisions. If you need more time to research, ponder or get comfortable with a possible outcome, take it! Anything worth having is worth waiting for.
The Sun and Pluto play hide and seek
What to hide and what to reveal? The answer to that question could befuddle us all this week as the live-out-loud Libra Sun gets into a tangled angle with furtive Pluto in keeping-up-appearances Capricorn. Even if you've earned your bragging rights, keep trade secrets on the down-low until trust has been established. It's just too hard to read the room during a Sun-Pluto square, which is at its strongest on Saturday, October 21. Competitors may be lurking—or jealous haters who can't stand to see anyone else shine. Protect your dreams like the priceless gems they are by "shielding your field" and being discerning about the company you keep.
The truth is, we ALL have a shadow side. Should yours peek out, don't judge yourself; just take some action to mitigate the impact. Set aside meditative alone time to tune in to your thoughts, ask for reassurance if you're wondering whether a certain someone has your back. Try to remember that people aren't mind readers. Instead of dropping hints—or even assuming that your actions are "obvious"—clearly state your intentions, leaving nothing up to chance.
Saturday's waxing quarter moon in Capricorn restores rational thinking
The stars deliver a much-needed reality check on Saturday, thanks to the quarter moon in Capricorn, the most grounded of all earth signs. If your mind has been spinning out with, "What if…?" scenarios, pick one or two of them and play them out, one step at a time. If X were to happen, then what? And what would happen after that? Keep going until you get to a natural conclusion. While, yes, you can survive most possibilities, this exercise can help you get your head around not simply which option is best for you (because there might be more than one path!) but rather, what it will take to pull off each plan.
Sunday's Venus-Jupiter trine brings a wave of optimism for romantic relationships
On Sunday, Venus gets back into her free-flowing groove when she teams up with generous Jupiter to form a harmonious trine (120-degree angle). With these two benefics singing a dynamic duet, all forms of love are meant to be celebrated. But when it comes to romance, these two sweet talkers can make big, bold promises, especially since both planets are cruising through stabilizing earth signs.
Since Jupiter is the global nomad and cross-cultural ambassador, this is a great weekend to diversify your dating portfolio or turn a brunch date into a daylong (or overnight) road trip. Need to clear the air with bae? Diplomatic Venus softens candid Jupiter's straight-shooting edge, ensuring that even the toughest sentiments to express won't get lost in translation.
What zodiac sign is your relationship?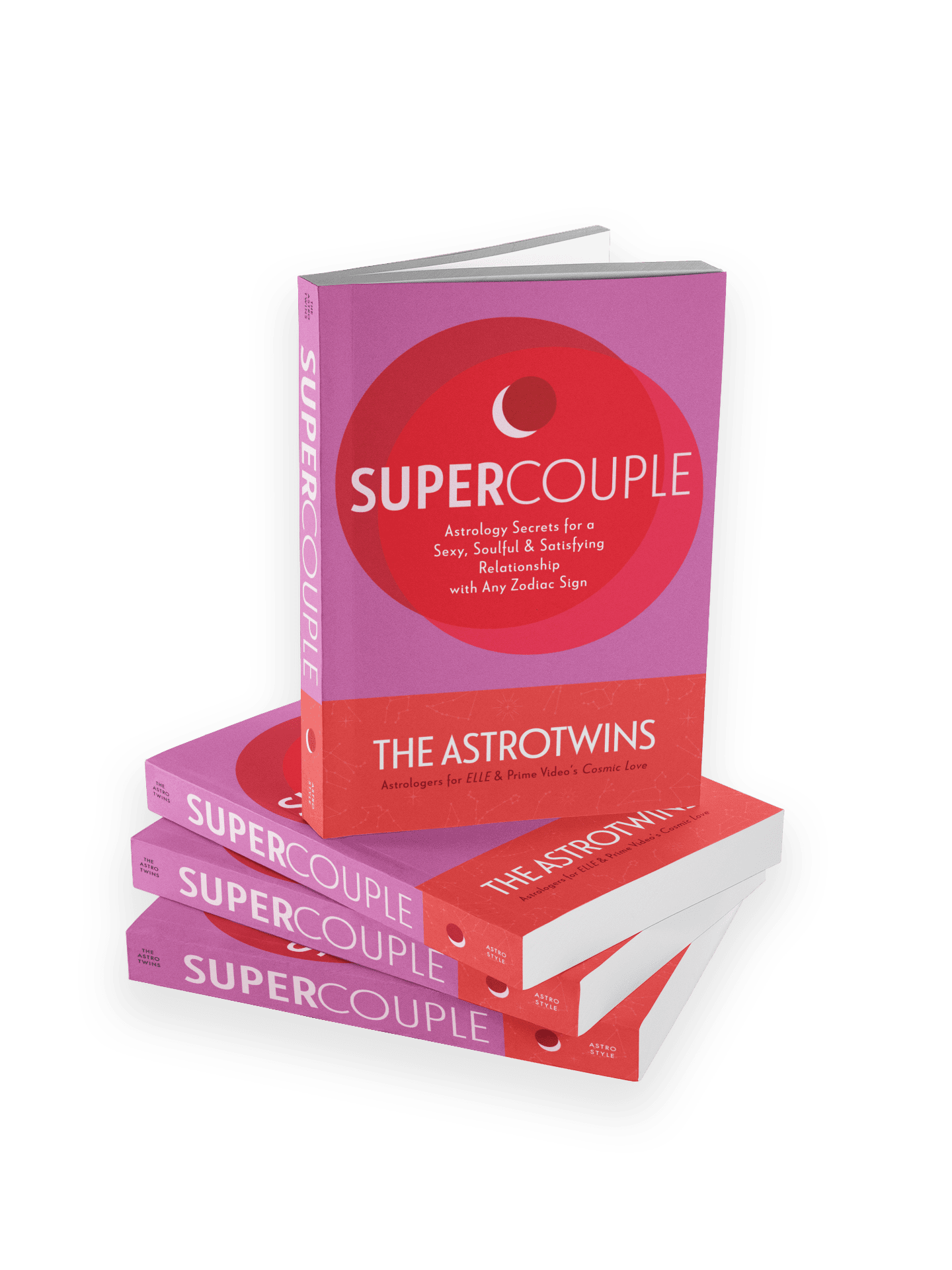 What zodiac sign is your relationship?
Learn the secrets of the composite (blended) chart in SuperCouple, a cosmic care and feeding manual for any relationship. Written by The AstroTwins, astrologers and matchmakers for Amazon Prime Video's Cosmic Love.
Your weekly horoscopes for October 16-22
What's does this week's horoscope forecast for your zodiac sign? The AstroTwins' weekly horoscopes for October 16-22, 2023, reveal what the planets have in store. How to use astrology to navigate!
You can read your weekly horoscopes for October 16-22 for your Sun sign or your rising sign (ascendant). Visit our Cosmic Calculator section if you want to calculate your Rising sign or discover more about your personal astrology.

Aries (March 21-April 19) weekly horoscope for October 16-22
While an Aries usually has two speeds—fast and supersonic—forging ahead against all odds won't get you where you want to go this week. As shadowy Pluto in Capricorn throws a curveball to the Libra Sun, stop and examine your own motives. Do you have… Keep reading your Weekly Aries Horoscope

Taurus (April 20-May 20) weekly horoscope forOctober 16-22
Isn't it ironic, Taurus, that the people who are quickest to dish out feedback are the easiest to offend? This week's tense square between the Libra Sun and piercing Pluto could bring prickly interactions with the critics in your world. You want to read them like a stack of library books…but don't! Under this stinging transit… Keep reading your Weekly Taurus Horoscope

Gemini (May 21-June 20) weekly horoscope forOctober 16-22
Shield your field, Gemini, because all week long, you could get swept along by other people's emotional whims. You might not even realize it's happening until, boom! Suddenly, your cheery mood turns stormy or you're spinning out with too many feelings. Chalk it up to… Keep reading your Gemini Weekly Horoscope

Cancer (June 21-July 22) weekly horoscope forOctober 16-22
Cancer to the rescue…again? You almost can't stop yourself rushing in to support people, whether they're relatives, a romantic partner or the people processing childhood trauma in your weekly meditation circle. But it's time to get real… Keep reading your Cancer Weekly Horoscope

Leo (July 23-August 22) weekly horoscope for October 16-22
What are they REALLY thinking? Hidden agendas come to light this week as shifty Pluto gets into a tangled angle with your ruler, the illuminating Sun. While their exact square won't happen until Saturday, stay on guard. A presumed ally could be… Keep reading your Leo Weekly Horoscope

Virgo (August 23-September 22) weekly horoscope forOctober 16-22
Hang on, Virgo…do you really want to go there? A minor grievance could escalate into an epic power this week, as the ego-driven Sun clashes with control freak Pluto. With the Sun shining into your principled—but oh-so-stubborn—second house, you're pretty unwilling to budge on your position. It doesn't help that Pluto is stationed in your loud, proud fifth house, either. You want things… Keep reading your Virgo Weekly Horoscope

Libra (September 23-October 22) weekly horoscope forOctober 16-22
Is your physical space a match for your soul, Libra? A reconfiguration may be in order as transformational Pluto in your domestic zone makes its annual square to the Sun in Libra and your first house of identity. Don't overwhelm yourself with… Keep reading your Libra Weekly Horoscope

Scorpio (October 23-November 21) weekly horoscope forOctober 16-22
Out with it, Scorpio! There may be storm clouds brewing inside of you, but when you keep those emotions to yourself for too long, you BECOME the storm. Before that happens, you need to stop and admit that things aren't going as smoothly as you'd hoped. This is not a sign of defeat! Quite the contrary… Keep reading your Scorpio Weekly Horoscope

Sagittarius (November 22-December 21) weekly horoscope forOctober 16-22
Select your company carefully this week, Sagittarius. With the Libra Sun shimmering in your communal eleventh house, you're all hopped up on team spirit. But thanks to a harsh beam from nefarious Pluto, one bad apple could spoil the collective barrel. Worse, you might… Keep reading your Sagittarius Weekly Horoscope

Capricorn (December 22-January 18) weekly horoscope forOctober 16-22
When you jump in the ring, Capricorn, you don't just keep up with the Joneses; you claim their family crest! But if you're chasing a long-term opportunity, rein in the competitive vibes this week. As cutthroat Pluto in your sign clashes with the Libra Sun in your driven tenth house, it's easy to lose sight of the big picture… Keep reading your Capricorn Weekly Horoscope

Aquarius (January 20-February 18) weekly horoscope forOctober 16-22
You want to have your chocolate ganache and eat it, too, Aquarius…and who could blame you? But this week's clash between the bright Sun and stormy Pluto makes it hard to have it both ways. With the Sun in your expansive ninth house, you're longing to stretch. But with possessive Pluto squaring el Sol… Keep reading your Aquarius Weekly Horoscope

Pisces (February 19-March 20) weekly horoscope forOctober 16-22
Guard your precious secrets with care this week. While you love an intimate exchange, you can't rush-order trust. As the Sun in your secretive eighth house gets swept into a challenging square to furtive Pluto, gullibility could get you in over your head. People might not be showing their true colors, or perhaps there's not much depth behind the charm. You can still enjoy the flattery, of course. Just don't… Keep reading your Pisces Weekly Horoscope
Read more for your sign in your October monthly horoscope and astrology forecast.
How to read your birth chart
Learn how to read your birth chart and get to know each planet in it! Enjoy this insightful, fun, and self-paced course and discover WHY you're the person you are and how to direct your natural gifts and strengths.