Here's what's happening in astrology this week
The astrology shaping your weekly horoscopes for October 23-29
Money, power, sex: Scorpio season begins Monday
Power is the name of the game for the next four weeks as the Sun slinks into magnetically seductive Scorpio. During this resourceful time, there's strength in numbers, so consider teaming up on a joint venture, passive-income opportunity or co-op venture. Where could you pool what's "yours" and what's "theirs" for a mutually beneficial win-win? That could be anything from a group investment to sharing babysitting to work-carpooling.
Ingenious Scorpio helps increase your bottom line by exposing where you're spending inefficiently. Reduce waste, trim needless costs…and watch the profits multiply! Scorpio rules transformation, so be mindful of what you focus on. Energy flows where your attention goes, and now your manifesting powers are dialed way up. Don't be surprised to get a text from a person you were just thinking about. And if that happens to be a more provocative ping than usual, don't say we didn't warn you!
Eclipse season wraps with Saturday's partial lunar (full moon) eclipse in Taurus
Over and out! October 28 (at 4:24 PM EDT) is the third and final lunar eclipse in fiscally fit Taurus, the sign of money, material security and hard work. This eclipse series, which began rippling across the Taurus/Scorpio axis on November 19, 2021, has been radically revamping the economy and our personal financial habits for the past two years. No need for extreme austerity, though. Sensible but sensual Taurus loves luxury (this sign is ruled by pleasure goddess Venus). The key is making sure you've got enough resources to cover the basics while enjoying those earthly delights.
Over the next few days, an exciting moneymaking opportunity might show up. You could rethink your job satisfaction or have an epiphany about achieving a better work/life balance. As Taurus rules our daily routines, this lunar eclipse gives a big push to finally replace a bad habit with a life-affirming practice. Instead of focusing on some impossible goal (e.g., "I'm cutting out sugar, carbs and dairy!"), aim for a sustainable shift that fits with your lifestyle—enough of a change to make an impact but not so gargantuan that you give up before it gains traction.
Mars and Mercury oppose Jupiter on Sunday, churning up extra intensity
Face-off! This combustible day comes with a trigger warning. As hotheaded Mars and mouthy Mercury lock horns with know-it-all Jupiter, no one's backing down from their righteous stance. Since Mars and Mercury are in secretive Scorpio, you might not even see an offensive intention coming your way. Stay on guard for passive-aggressive behavior, a warning that something bigger may be brewing. Normally, Jupiter in Taurus would favor a candid conversation to clear the air, but approaching the "enemy" directly right now could inflame the situation. Be watchful and strategic—and keep classified information in the vault.
All new daily planner format!
🛼 Your ultimate guide to 2024
🎁 Give the gift of astrology! Bundle up on 2024 Horoscope books and planners and save 70%!
Your weekly horoscopes for October 23-29
What's does this week's horoscope forecast for your zodiac sign? The AstroTwins' weekly horoscopes for October 23-29, 2023, reveal what the planets have in store. How to use astrology to navigate!
You can read your weekly horoscopes for October 23-29 for your Sun sign or your rising sign (ascendant). Visit our Cosmic Calculator section if you want to calculate your Rising sign or discover more about your personal astrology.

Aries (March 21-April 19) weekly horoscope for October 23-19
Me-ow! Your sizzle factor shoots through the roof starting this Monday, October 23, as the Sun embarks on its annual catwalk through seductive Scorpio and your eighth house of intimacy and eroticism. The outdoor temps may be falling, but the next four weeks should be hotter in YOUR boudoir than the kitchen in Hades, Ram! Your personal mojo may be… Keep reading your Weekly Aries Horoscope

Taurus (April 20-May 20) weekly horoscope forOctober 23-29
Hopefully you've made serious inroads into your organizational and decluttering projects over the past month, Taurus. On Monday, October 23, the Sun leaves beautifying Libra and your tidy-up zone and blazes into Scorpio and your house of committed partnerships, jump-starting any relationship that was stuck in limbo. Libra season is your annual opportunity to get your Bullpen in proper working order, and with luck, you did… Keep reading your Weekly Taurus Horoscope

Gemini (May 21-June 20) weekly horoscope forOctober 23-29
How's that to-do list coming along, Gemini? If you've been thinking about it more than attending to it, this week might finally be Go time! On Monday, October 23, the energizing Sun wraps up a monthlong rager that was hosted in Libra and your celebratory fifth house and hunkers down in Scorpio and your sixth house of work and service, organization and healthy routines. It's all too easy to… Keep reading your Gemini Weekly Horoscope

Cancer (June 21-July 22) weekly horoscope forOctober 23-29
Monday, October 23, marks the official end of your pre-hibernation phase, which might have been intentional—or you may have lapsed into it unawares. Either way, as the workweek dawns, the radiant Sun leaves a blazing trail as it exits your domestic fourth house and enters Scorpio and your flirty, fun-loving, fame-attracting fifth. No, you don't need permission… Keep reading your Cancer Weekly Horoscope

Leo (July 23-August 22) weekly horoscope for October 23-29
Been burning the candle at both ends (again), Leo? You'll finally get a chance to catch up on your beauty sleep beginning this Monday, October 23. Your galactic guardian, the vitalizing Sun, wraps up a monthlong pub crawl through your social third house and burrows under the Scorpionic covers in your fourth house of domesticity. Sometimes your energies levels get (and stay) so high that you don't realize… Keep reading your Leo Weekly Horoscope

Virgo (August 23-September 22) weekly horoscope forOctober 23-29
Your humble sign is usually quite content toiling anonymously behind the scenes, lending your keen insights and huge talents to team projects. But this week's stars issue a warming: You might feel the warm glow of a spotlight shining on YOU! On Monday, October 23, the self-assured Sun blasts into dramatic Scorpio and your communication center for a month, putting you and YOUR message on public display. Some Virgos will… Keep reading your Virgo Weekly Horoscope

Libra (September 23-October 22) weekly horoscope forOctober 23-29
After a month of birthday celebrations, it's time to close the books on Libra season and redirect your attention to an equally important matter: your bottom line! On Monday, October 23, the Sun waves adios to your sign as it blazes into strategic Scorpio and your second house of finances and security. It's not an either/or situation, Libra—i.e., not a case of full-on pleasure OR belt-tightening. Over the coming four weeks… Keep reading your Libra Weekly Horoscope

Scorpio (October 23-November 21) weekly horoscope forOctober 23-29
Kick up your heels, pull your party outfits out of mothballs: Starting on Monday, October 23, it's Scorpio season once again! And it's sure to be four weeks of celebrating YOU as the Sun sojourns through your sign and first house of self-assertiveness. For the previous month, as el Sol puttered through Libra and your low-energy twelfth house, you may have slowed down and recharged in preparation for YOUR season… Keep reading your Scorpio Weekly Horoscope

Sagittarius (November 22-December 21) weekly horoscope forOctober 23-29
Hopefully you've gotten your fill of parties, karaoke nights and group hangs and are ready for a pre-hibernation rest. On Monday, October 23, after four weeks carousing in your super-social eleventh house, the illuminating Sun slides into its bunny slippers, which are waiting by the door in Scorpio and your introspective twelfth house. Over the next month, you're free to downshift, set new priorities and take care of your own… Keep reading your Sagittarius Weekly Horoscope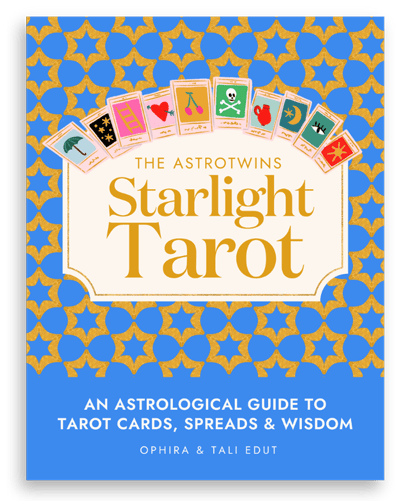 An Astrological Guide to
Tarot Cards, Spreads & Wisdom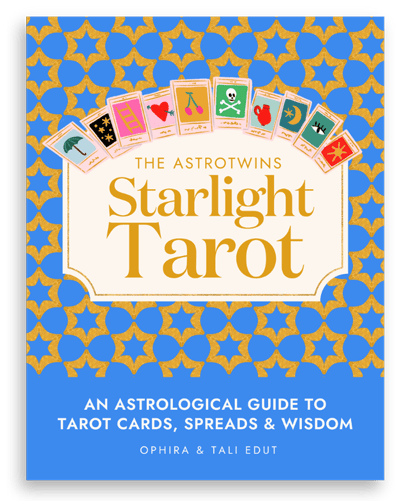 The AstroTwins bring your Tarot journey to life with Tarot spreads, history and empowering guidance.
Get the starlight Tarot

Capricorn (December 22-January 18) weekly horoscope forOctober 23-29
Been burning the midnight oil again, Cap? While that might be "business as usual" for your hard-working sign, even an industrious Sea Goat needs—and deserves—a break now and then. And your moment arrives this Monday, October 23, as the Sun leaves Libra and your professional tenth house sector and beams into Scorpio and your eleventh house of group activities for the next four weeks. Hopefully you brought the… Keep reading your Capricorn Weekly Horoscope

Aquarius (January 20-February 18) weekly horoscope forOctober 23-29
Are your wings tired yet from all that flapping and soaring you've put them through over the past four weeks? Get ready to fold them in and prepare for landing on Monday, October 23, when the Sun leaves Libra and your exploratory ninth house and turns up the heat in your professional tenth. Whether you work at a large company, a start-up or run your own business, you might be embarking on an ambitious project that can put… Keep reading your Aquarius Weekly Horoscope

Pisces (February 19-March 20) weekly horoscope forOctober 23-29
If you've got any urgent business to wrap up or need someone to sign off on a key part of a project, make one last-ditch effort early on Monday, October 23, before the Sun leaves Libra and your laser-focused eighth house. For the past four weeks, you may have been focused on joint resources and permabonding, but as the workweek kicks off, el Sol moves on to intensifying Scorpio and your adventurous, expansive ninth house for the next month. Suddenly all that… Keep reading your Pisces Weekly Horoscope
Read more for your sign in your October monthly horoscope and astrology forecast.
How to read your birth chart
Learn how to read your birth chart and get to know each planet in it! Enjoy this insightful, fun, and self-paced course and discover WHY you're the person you are and how to direct your natural gifts and strengths.