S1, e5
Cosmic Love
Total Eclipse of the Heart
Who's going home from the Cosmic Compound? The first eliminations take place. Plus: The AstroTwins explain how to read the love planets, Venus and Mars, in any chart on Amazon X-Ray.
Caution: Spoilers ahead!
What happens in Cosmic Love, Episode 5?
Summary of Episode 5:
The Elements are all matched to the Singles now. Some singles are forging their own relationships, though. Maria juggles the Chrises. The Elements go on group dates with all of their matches and after, eliminate one match and send that Single home.
Now that all of astrological matches have been made by The AstroTwins, it's time for the Elements to start determining who is best for marriage, The Astro Chamber reveals.
"Pay attention to your connections," the Elements are told, "because soon you'll have to make a decision about who to keep and who to send home. Get to know your matches as well as you can because it may be the last time you're seeing them!"
An update on the Element matches of Cosmic Love
The Elements are matched to all the Singles by Episode 5.
Phoebe (Leo/Fire) is matched with Caleb (Pisces/Water), David (Aquarius/Air), Phillip (Capricorn/Earth) and Darren (Scorpio/Water)
Noel is matched with Jazmin P. (Gemini/Air), Theresa (Scorpio/Water), Jasmine R. (Cancer/Water) and Morgan (Virgo/Earth)
Connor is matched with Adrianna (Sagittarius/Fire), Danae (Leo/Fire), Yana (Aquarius/Air) and Ana (Pisces/Water)
Maria is matched with Javier (Capricorn/Earth), Christopher J. ("CJ") (Sagittarius/Fire), Chris R. (Leo/Fire) and Chris E. (Pisces/Water)
But wait, there are more matches?!
You can't prevent chemistry, and with all these Singles under one roof, some have formed their own flirtatious bonds. Who gravitated to someone who isn't an Element? Fate was no match for free will for:
Caleb (Pisces/Water) and Adrianna (Sagittarius/Fire)
Theresa and Darren (both Scorpio/Water)
Jasmine R. and Chris E. (both Pisces/Water)
"I'm willing to let the stars align the way that they're supposed to, but at the same time I am interested in Darren," Theresa says. "Even though he's not my match, I think he's a really great guy and I'm enjoying his company and enjoying getting to know him. I've noticed there's something with him that I feel that I haven't felt with Noel."
The Astrology of Cosmic Love, Episode 5
Venus and Mars signs: Map your love planets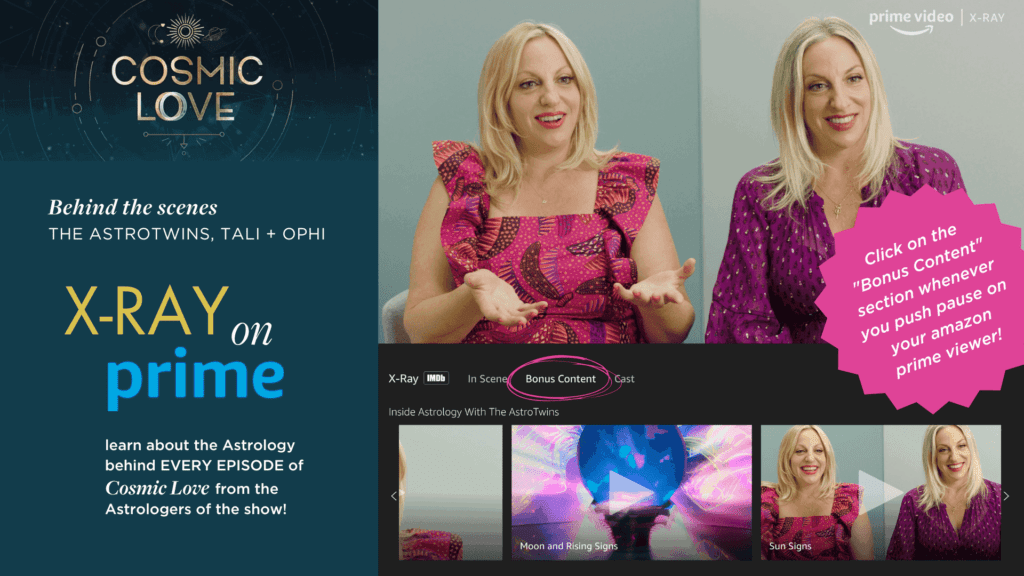 In episode 5 of Cosmic Love, the Venus and Mars signs of the Elements are revealed. "This gave them another level of understanding of their matches," Ophi says.
Venus and Mars are the love planets
Venus is the seductive planet, the date planner, and what gets you in the mood.
Mars kicks in when you're in the mood. Think: this is how I like it, this is how I want it.
What astrology traits are the Elements revealing in Episode 5?
So far this season on Cosmic Love, the Elements have learned about their Mercury, moon, Sun, rising sign, and now Venus and Mars. These all represent the inner planets (the ones closest to the Sun). They are the "personal planets." They move and change signs faster than the outer planets (Jupiter, Saturn, Uranus, Neptune and Pluto). While the outer planets are also important, they don't direct our day-to-day lives the way the inner planets do.
The AstroTwins say these new "data points" about the inner planets can help the Elements decide if someone will be a good match.
In Episode 5, they are evaluating with whom they can have lasting romance, sexual chemistry, good communication and build a future family––from knowing their Venus and Mars signs.
For example:
Connor and Danae both have Mars in Virgo. This is an interesting place for Mars to be because Mars is forward and Virgo is demure and analytical. Connor and Danae have a lot in common, but these placements means it took them a long time to start talking, not wanting to just jump into something but also feeling the pressure of the clock ticking. (Connor's Venus is in Taurus.)
Maria's has both Venus in Capricorn and Mars in Capricorn. This means she's drawn to guys who treat her well and she's romantically assertive.
Noel's Venus is in Taurus and Mars is in Gemini. He appreciates a woman who looks good and treats herself like a goddess, but only looking at physical appearances has got him into trouble in the past. He's encouraged to look beyond outer beauty and make deeper emotional connections.
Phoebe's Venus is in Cancer, the most sensitive sign. She wants to be with a guy who makes her feel nurtured. Her Mars is in Virgo, the most careful and critical sign and the one that likes to be in control. In previous relationships, Phoebe let her insecurities get the best of her. She's encouraged now to be confident and address what she's been feeling.
Discover your Venus and Mars signs
Where are the love planets in your birth chart? Do a free chart here or use our Cosmic Calculators here
One note about Saturn's role in romance
While Saturn is an outer planet and less impactful of your day-to-day, its return plays an important role in your life. Known as the Saturn Return, you experience it when the Sun returns to the sign in which you were born. The "planet of adulting" makes its first return when you're about 29 years old, the time in which a lot of people move into a new stage of their lives, grapple with identity, want to settle down, etc. Several Cosmic Love cast members were in their Saturn Return during filming!
Who gets sent home in Cosmic Love, Episode 5?
The Astro Chamber summons all the Elements after the dates with their matches. "All of your matches are astrologically compatible with you. But, now it's time that each of you let one of them go."
Proposals, moving in together, meeting the in-laws, are all considerations for the Elements as they make their decisions on who to send home.
Connor tells Adrianna it's not in the stars for them
Phoebe tells David it's not in the stars for them
Noel tells Jasmine R. it's not in the stars for them (even though he acknowledges Theresa's connection to Darren)
Maria walks off set, too upset to make her elimination
The experiment of Cosmic Love continues
"I came here to find a husband and be in love," Maria says, "But at the moment I'm very confused."
Phoebe says: "I'm feeling a lot of pressure to be open to the romantic possibilities now that I know who all my matches are. There's only a few weeks left of the experiment, so I don't have that much time left to figure out who I could possibly be marrying."
What's coming up on Cosmic Love: Season 1, Episode 6?
Maria reveals her first elimination. The events of the first elimination affect the remaining relationships. And there is another elimination!