What does your 2018 Aries horoscope have planned for your Sun sign? A new focus on sex, intimacy and trust—plus some serious money-making if you play your cards right.
Adapted from The AstroTwins' 2018 Planetary Planner
Going deep! In 2018, your indie-spirited sign could trade some of your signature autonomy for dynamic duos and power couplings. Who are the people that can keep up with you, mind, body and soul? It's a strategic year when you'll need to take calculated risks—and also do your fair-share of soul-searching. Feelings you've been brushing aside will no longer be ignored. Duck out of the spotlight for some private reckoning with your emotions, even if that means having a couple of "ugly cries." Take an up-close look at your own psychological and karmic patterns. These may not be Instagram-worthy moments, but the inner work you do will see you emerging transformed by the end of the year. Career and finances could also be subject to change, as you look for new ways to pursue your professional purpose without selling out.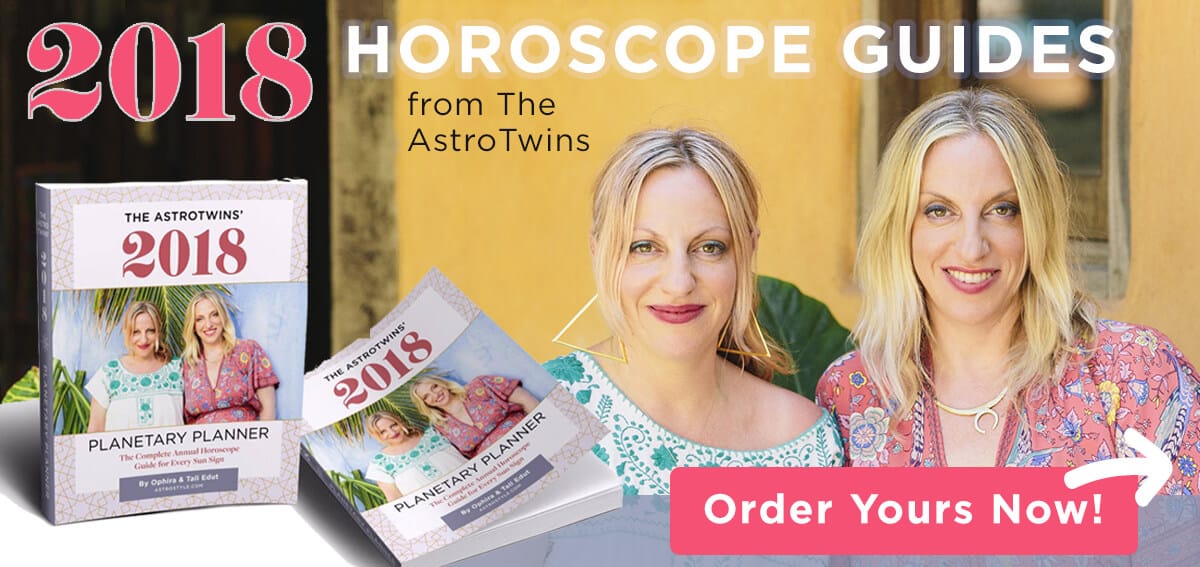 LOVE & RELATIONSHIPS
With expansive Jupiter in your intimate eighth house, you've got the urge to merge. Coupled Aries could join their lives in more permanent ways: moving in together, getting engaged, a pregnancy. Or, you might call the whole thing off! Two eclipses in Leo set your lusty fifth house ablaze and bring unexpected chemistry—and possible drama.
MONEY & CAREER
Finances and work get a major makeover! Jupiter is in your eighth house of joint ventures and windfalls, which could draw a large lump sum. You could pay off debt, buy real estate or invest. Innovative Uranus moves into Taurus and your daily income zone mid-May, which may spark a pioneering and profitable new path. But slow and steady wins the race, as cautious Saturn spends the next three years in your professional zone, a prescription for hard work and hustle. Keep your eyes on the long-term prize.
HEALTH & WELLNESS
Wellness is an inside job this year, as Jupiter spotlights your eighth house of the psyche, emotions and transformation. "As within, so without" is your mantra. Explore the mind-body connection. Disciplined Saturn in your regimented tenth house could give you the willpower to try bootcamp or work with a hard-driving trainer.
FAMILY & FRIENDS
Deepen your bonds and get personal. Jupiter in your private eighth house tightens your inner circle. You'll crave the company of a select few trustworthy souls who can go the distance. Saturn in your fatherhood sector helps you work through any "dad issues." July's solar eclipse in Cancer touches your domestic fourth house. You could move, expand your family or prioritize time with a female relative, possibly your mom.
Get your complete 2018 Aries horoscope from The AstroTwins: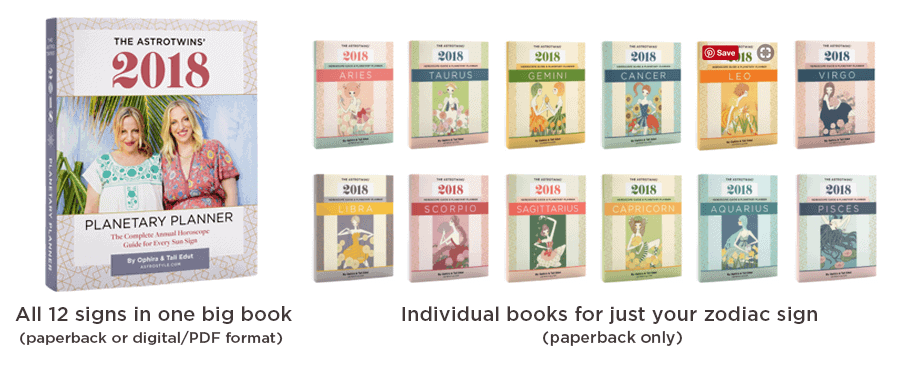 The AstroTwins' 2018 Planetary Planner is your horoscope guide to the entire year, with the most important dates and opportunities spelled out. Never miss a star-powered moment again! Order a book for just your sign or the complete 2018 Planner with forecasts for all 12 signs!