What does your Libra 2018 horoscope have planned for your Sun sign? More money than you've made in years! Your confidence and security are both on the rise, and you might even get an exciting career offer.
Adapted from The AstroTwins' 2018 Planetary Planner
Hello, Libra on fire! This year, both your self-worth AND your net worth are on the upswing (and TBH, they're kind of interconnected). After all, when you truly value yourself, it's hard to accept less than what you deserve. This boost will begin with your paycheck, but by the second half of the year, it will have a ripple effect through all your relationships. Exploring sex, sensuality and spirituality could become new fascinations for some Libras, as you fearlessly own your desires, from the sacred to the profane. Midyear, you could rise to powerful new career heights. Home and family could bring a few growing pains, though. You might decide to downsize or get serious about putting down roots and perhaps becoming a homeowner. If you're still hanging onto childhood baggage, especially "mama drama," it's time to do the work to let that go.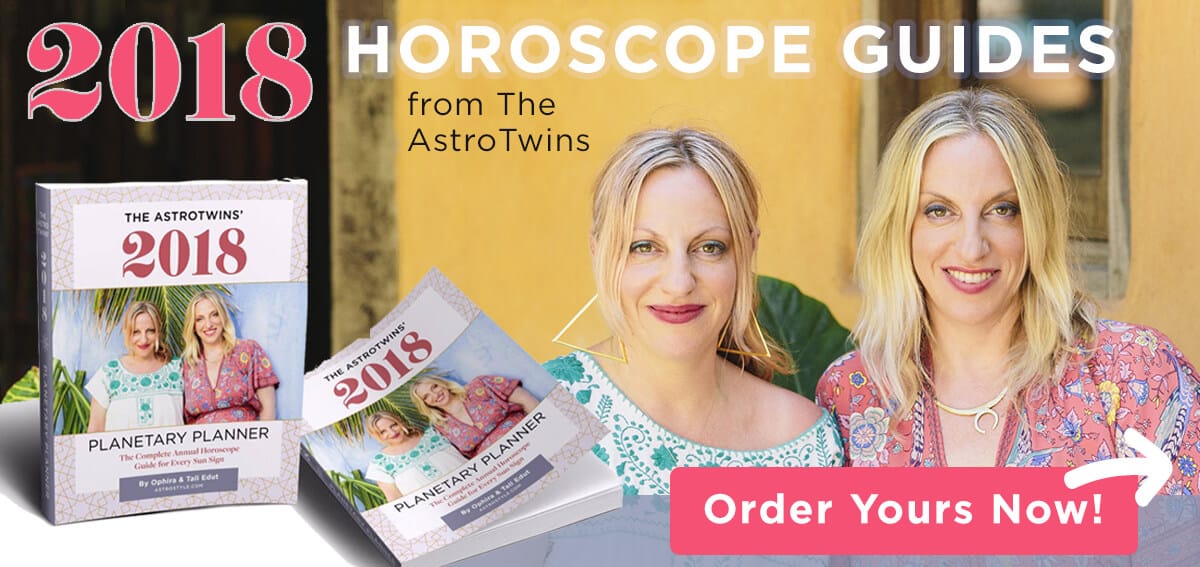 LOVE & RELATIONSHIPS
Confidence is irresistible—and you'll start having that in spades this year, as Jupiter visits your second house of self-worth. You're attracted to security and could meet a stable partner. Someone you may have considered "boring" now seems like a great catch (and probably is!). Couples can use this time to get more grounded in your current relationship. Unpredictable Uranus ends a seven-year journey through your partner house this May, adding more consistency to your commitments. But it's not all scripted: Two passion-powered eclipses this February and July could bring new romance or even baby news.
MONEY & CAREER
Bring on the bounty! Abundant Jupiter spends most of the year in your second house of work and money. This could bring a new career path, a raise or promotion, or a relocation for work. With auspicious Jupiter playing accountant, 2018 could be your luckiest financial year in over a decade. Innovative Uranus starts an eight-year visit to your joint ventures zone in May, which could spark an exciting collaboration. You might explore real estate, investing or passive income options online. July's solar eclipse in your ambitious tenth house says "CEO"…in skywriting! You could rocket to a leadership role or win a prestigious honor.
HEALTH & WELLNESS
Good habits are everything this year. Jupiter in your streamlined second house infuses your daily routines with a pleasant and inspiring rhythm. It may sound basic, but eating, going to bed, and waking up at the same general times every day can do wonders for your vitality. Keep everything simple, including your diet and exercise. For Libra women, Saturn in your feminine fourth house can spotlight hormonal and reproductive health.
FAMILY & FRIENDS
Home and family could be weighty topics in 2018, as structured Saturn visits Capricorn and your domesticity zone. Maybe it's time to get serious about home ownership, parenthood or putting down roots? This could be an "empty nest" year for some Libras, or a time when an aging parent becomes your responsibility. Your relationship with your mother or a female relative could go through a rocky but important transition. Have you outgrown your crew? Eclipses in your friendship sector this January and August can reshuffle your alliances. The year ends on a vibrant note once Jupiter starts a 13-month visit to your social third house in November.
Get your complete 2018 Libra horoscope from The AstroTwins: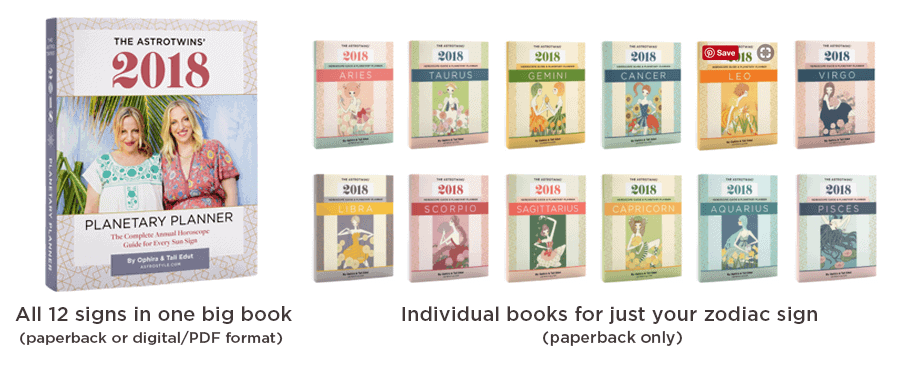 The AstroTwins' 2018 Planetary Planner is your horoscope guide to the entire year, with the most important dates and opportunities spelled out. Never miss a star-powered moment again! Order a book for just your sign or the complete 2018 Planner with forecasts for all 12 signs!