What does your Scorpio 2018 horoscope hold for your Sun sign? Your luckiest and most expansive year in over a decade. Let go of the past and experiment with the new—this is your time to take a risk and shine.
Adapted from The AstroTwins' 2018 Planetary Planner
Welcome to the Year of You! With abundant Jupiter in Scorpio for the first time since 2006, you're kicking off a fresh 12-year cycle of your life. Until November 8, you've got a cosmic permission slip to take risks, experiment and discover new passions. Let others take care of their own needs, because you need to fly free. Don't pigeonhole yourself into anything yet, because one of the (many!) things you dabble in could turn into a lucrative and fulfilling new path next year. For now, cast a wide net. Sign up for classes, take vacations, get a "bridge job" if a 9-to-5 is sucking your soul dry. In the second half of the year, relationships could go through radical changes, or you might start clicking with an avant-garde group of people. Open your eyes (and your heart) to new perspectives, whether you're single or in a relationships. Home and career could also see changes from four of this year's eclipses. Expect the unexpected and welcome the unfamiliar in 2018—it's coming, whether you're ready or not!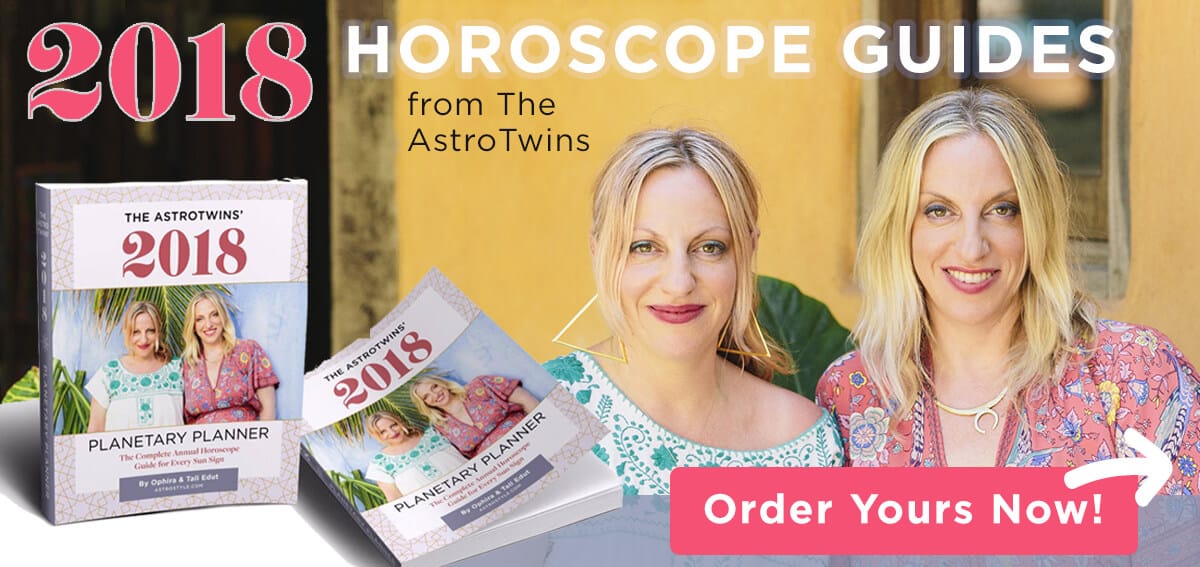 LOVE & RELATIONSHIPS
At last! Adventurous Jupiter in your sign makes you fall in love with your own life again. Unconventional Uranus starts an eight-year visit to your committed relationship house in May, bringing fascinating (and quirky) people into your orbit. Existing partnerships can go through big changes. Single? You could shock yourself (and your friends) by choosing someone wildly different than your usual type. Under this impulsive transit, you may rush into (and out of) relationships at lightning speed. Whiplash!
MONEY & CAREER
The burden has lifted! In December 2017, restrictive Saturn ended a three-year transit through your financial house that forced you to tighten your belt. Apply your hard-won skills and wisdom to building your nest egg now. Two eclipses in Leo ignite your career sector, which could bring exciting professional opportunities when you least expect them. Abundance is yours for the asking in November, once Jupiter starts a 13-month visit to your prosperous second house.
HEALTH & WELLNESS
With unpredictable Uranus leaving your health and fitness house after seven years, you can finally resume a more predictable pattern. You may have radically revamped your approach to diet and exercise during this time. Tech-savvy Uranus will make one last visit to Aries from November 2018 to March 2019, so haul out your Fitbit and Vitamix. With structured Saturn in your community zone, you might join a marathon or walk for a cause.
FAMILY & FRIENDS
Build your power posse, Scorpio! New friendships could form around common goals as serious Saturn visits your social third house. Mixing work and play will be a no-brainer, and don't be surprised if you "uplevel" the type of people you call friends. Two eclipses in Aquarius touch your domestic fourth house which could bring a move, a pregnancy or unexpected changes at Chateau Scorpio.
Get your complete 2018 Scorpio horoscope from The AstroTwins: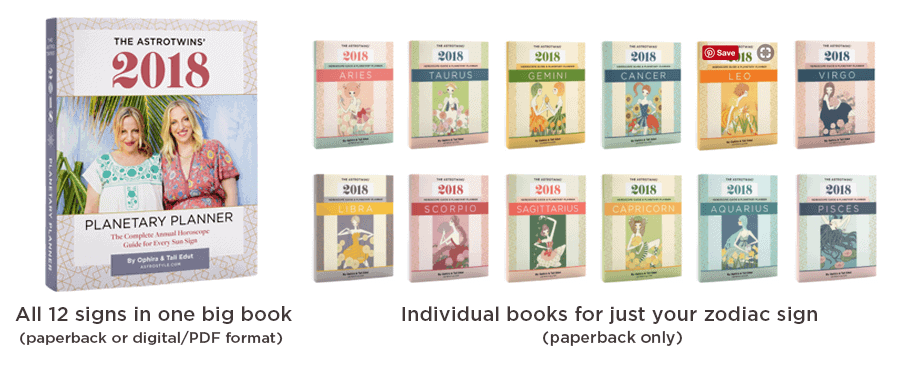 The AstroTwins' 2018 Planetary Planner is your horoscope guide to the entire year, with the most important dates and opportunities spelled out. Never miss a star-powered moment again! Order a book for just your sign or the complete 2018 Planner with forecasts for all 12 signs!